Well, its done. I started this baby Kimono on the 27th of December and finished it on the 4th of January. Its for my husbands co-worker who just had a baby on the 18th of December. Its newborn size because thats what the pattern called for so I stuck with those numbers to see what it would look like. Now I can adjust the pattern to fit a 6-12 month old. I'm going to make a couple for my cousins who both had babies in July.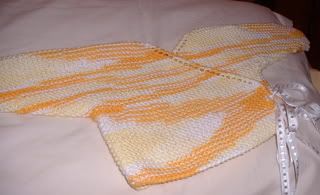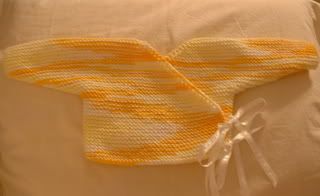 I am not sure if I mentioned it here before but I signed up for the Cabled Dog Sweater Class at my local yarn store and I am so excited about it. I picked out my yarn for the project and its a gorgeous bright pumpkin color. My black and tan mini-doxie will look really good in it. He's getting a sweater 1st due to his lack of hair (he's a short hair and my other 2 doxies are long haired).
While I was at the yarn shop yesterday I was talking to the owner about finishing (seaming) the kimono I made and how I would LOVE to learn the proper way to do that. It so happens that there is a class being offered in February on Finishing for the non-finisher or beginning finishing it should be called. When I got home I checked my DH's schedule and it so happens that he is working a half day on the 1st day of the class and off on the second day of the class. Its only January and I am well on the way to sticking to the goals I made for the new year! I always want to be learning and improving my knitting skills and not stay stagnant like many older knittters out there. Not that thats a bad thing because many people are happy for 50 years making the same old things over and over. Personally, I would not be happy doing that.
Today is Jan. 6th and the Feast of the Epiphany or Three Kings Day. My Christmas Tree remains up as it does every year on this day. I am planning on taking it down this week sometime but believe me I am not looking forward to it. Its a big job and seems to get bigger every year due to the aquisition of Chistmas ornaments as gifts.
I had some blood work done this past week because I wasnt feeling quite right. I thought it might have been my thyroid but the Dr called me yesterday and said that everything looked well and in normal range including my TSH and Free T4 levels. My hematocrit was a tad low but not enough to panic so that can be why I get exhausted at times. I will not take iron because its not really been proven to work with pills. You are better off eating more lean meats or veggies that have iron like spinach. I'll stick to the veggies thank you.
My current knitting projects that I soon will be finished with:
One BMFA sock in Jingle Bell Rock Colorway, then I have to start the second one!
Voodoo Wrist warmer, 25% done with the 1st one, then of course (you've heard this before) I have to start the second one.
Soon I have to add learning the 2 socks on 2 circulars or Magic Loop to my goals for the year. One of the girls who works/teaches at the yarn store said that she could teach me. Its going to have to wait until I am done with the 2 classes I signed up for!