This entry was from Friday October 27, 2006
We went to The NY Sheep and Wool Festival on Sunday, known to the fiber arts community as just RHINEBECK and had the best time ever! I didnt spend as much money as thought I would but I had some rules I set for myself which I pretty much stuck to. Altogether with food, fee to get in, gifts for the kids, and of course yarn for me. I met a friend of mine thats in my Magic Loop Sock class. She was nice enought to stop me from purchasing a couple of patterns that she had already purchased. She took me aside and told me that she could send me a copy of them and save me the money. I received them today and I am so glad I didnt have to spend the money on them. It was very nice of her and I have to give her a call so we can get together and make more socks. I had my last Magic Loop sock class on Tuesday night and I am officially sock obssessed! Most of my yarn purchases there were sock yarn and I am awaiting an order from www.littleknits.com which should be here tomorrow. I have to cast on for a pair I am making for my plastic surgeon. The kids had a great time at the festival watching the sheep dog trials, pumpkin toss, sheep and llama auctions, all the food vendors and of course running in the open spaces of the Dutchess County Fairgrounds. I was upset that I did not get any Socks that Rock from Bluemoon Fiber Arts but I know now where to get them. There are so many buildings with so many vendors that you dont know where to go first. Now I know that a booth reserved by "the Fold" sells them. You can also buy them directly online so its not that big of a deal. Another friend of mine is going to STITCHES EAST in Baltimore next week and said if she sees any that she would grab them for me. You should be able to see them here:
www.bluemoonfiberarts.com or www.thefoldatmc.net Sorry for the enabling for the other fiber enthusiasts out there!
I had an appointment with the plastic surgeon on Wednesday. He said that everything looked great and we could set up the surgery for the exchange. I have a lot of paperwork to sign since I am chosing the silicone gel implants over the saline and there is an ongoing study of women who had bilateral mastectomies and then have reconstruction with the silicone implants. They look better than the saline and also feel better due to the fact that women with mastectomies have to stretch the skin and muscle unlike people that just have implants put in. I have done my research about these things and I am not afraid at all about the decsion I made. There are risks involved with everything in life and I cant worry about all of them.
I have been going back to my OT for my arm because it has developed the cording problem again. This time its making it hard to move it in cerain ways but no where near the amount of disomfort/pain that I before.
My contribution to SOCKTOBERFEST is complete and I am working on the second sock of the second pair. The good news is that I have some left overs for a small childs sock. Probably for my son because my DD's feet are too big. I feel a little weird because I am on my second pair and almost done and others have done many, MANY more socks than I. I may have to extend this socktoberfest into November and even December. Heck it should be year round! Here are the completed socks: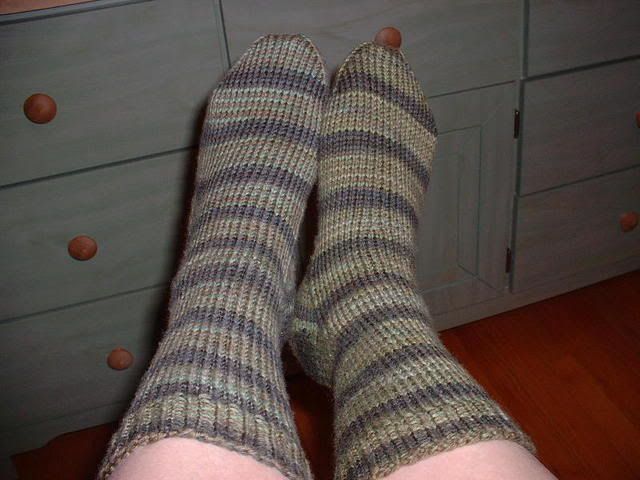 I finished my 1/2 mittens (they're called FETCHING and the pattern can be found here www.knitty.com) I liked the pattern a lot but the next time I make them I am going to change the design to suit my own style. There are others without the cable design that will be done a lot faster than this pair was. What takes so long is the cables. I am going to give this pair to someone who was admiring them as a Christmas present.
My Mom is coming to help out with the kids tomorrow. Hopefully I can rest a little. I wish I could talk more but its now 3:15am and I have to go sleep.
***********************************
This post was written Saturday night (late):
Remember in my last post I thought that I would be getting some rest today, well think again! My DD was coughing all day and nothing was helping her with it. Her temperature was also on the rise. I was giving her Motrin alternating with Tylenol, cold and cough medicine. I could tell something wasnt right at all. Later on in the afternoon my Mom was with the kids in the family room and I was upstairs doing some laundry (you can see I was resting ) when all of a sudden I hear crying (a distressful cry) and my Mom calling me to come down and listen to dd's lungs because she was having trouble breathing and also wheezing. I heard the wheeze and overall didnt like the way she looked including her color which was very pale and greenish. I called hubby at work and told him that I was bringing her to the ER and to expect us within the half hour. I initially thought that it was a simple bronchitis that needed antibiotics but of course this is my life we are talking about we have to make it worse than that! DD has pneumonia in the left lung and also needed oxygen and 5 albuterol treatments just to get her oxygen to a normal level. They also gave her IV steroids to help her breathe. They started her on some IV antibiotics after they got back the CBC which noted a slightly elevated WBC count. After the 2nd albuterol nebulizer treatment she started to get the shakes and a bit tachycardic (which albuterol can do) and then she vomited all over the place. I cought most of it in an emesis basin (I am so skilled at that right now ). Her color was getting worse and her fever was creaping up again. Now it was just shy of 102. They gave her some Motrin and the pediatric Nurse Practitioner said that she should stay overnight due to her dropping oxygen levels on room air. When she was on the oxygen via mask her levels were great but once it was off it went right to the high 80's, lower 90's which is not good for a child. They like to see it as close to 100 as you can get. Another reason she is staying is that her lungs are not exchanging air well causing the low O2 levels. I felt so bad I cant explain into words so I was crying out of frustration right in the exam room. I would trade places with her in a heartbeat. It sucks to be sick and this is the 3rd or 4th time she has had pneumonia in her life. Its funny because last week we brought the kids for their flu shots to prevent something like this and it happens anyway. You never know I guess but as long as they find out whats wrong and treat it properly then I can sleep well. My DH is staying with DD at the hospital because she aske him too. I usually stay with the kids in the hospital but she wanted her Daddy this time. I drove home VERY tired & upset, wanting to crawl into bed but of course I couldnt do that. I worked on my sock that I started for my DR today and realized that there was a mistake in it and frogged the entire sock! I made the mistake in the hospital because I was upset and very emotional. I shouldnt have brought it with me but it did help keep me occupied while waiting for the test results. I just started another one with CASCADE FIXATION which has an elastic component to it so it has a lot of stretch. Of course its PINK! I really have to get going with the DR's sock now, I think I might make him a heavier weight sock so it gets completed quicker? I will ponder that thought....
This post was written this morning:
I cant believe I fell asleep without submitting this post! What a dork I am
I just got off the phone with DH and found out that DD probably has to stay another night because her O2 sats are still low (she's not getting enough oxygen in her lungs) and she's still wheezing. She's getting breathing treatments every 3 hours, IV antibiotics and fluids and constant oxygen to keep her levels up. At least she got to have some breakfast this morning. I wasnt sure because she was vomiting last night. I think it was from the albuterol because it was also causing her to be hyper and tachycardic. I am waiting for the Dr to call to see if she is coming home. If not I am going to bring her some stuffed animals and books to keep her busy. My DH is supposed to work tomorrow but is obviously not going to because someone has to stay with our DD and somone also has to be with our son. Thank GOD my Mom was here yesterday. Even if she wasnt she said that she would have come up anyway to help. I will update later with any new news. Please say a little prayer for my DD to get well soon. I know all of you that prayed for me or thought of me when I needed you most brought me through some very rough times and I know that it will help my DD through this time as well.