I meant to post to my blog last night and I was so tired that I fell asleep. I fell asleep knitting my second Waterfall sock from the Woolgirl sock club. I have 2 more lace repeats on it then I can start with the toe decreases. I want to finish it before I cast on for another sock.
Yesterdays mail brought me my first installment of Knitting Centrals Sock Club which I will post at the end as not to spoil it for others who havent received theirs yet. Even though everyone gets a different color of the same brand of yarn we all get the same pattern. I love the color that was sent to me but I was thinking about using the BM yarn that I ordered the other day. I am anxiously awaiting it. Since its Socktoberfest starting Oct 1st I plan on knitting as many socks as my left hand will allow because its killing me lately! I am calling the Occupational Therapist on Monday to see if she can squeeze me in for an appointment this coming week.
Of course, I did make some jewelry this week:
Blue Metallic Ceramic Set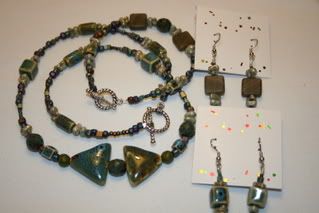 Hemalyke Fan Necklace with Pearls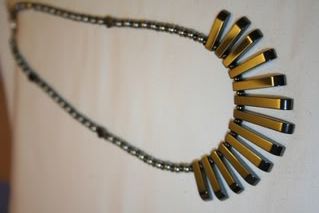 Turquoise Set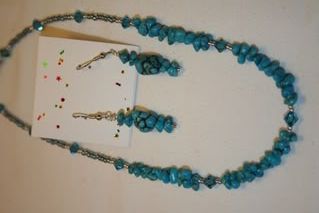 Butterfly & Flowers Bracelets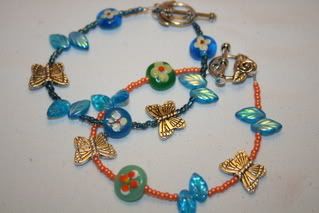 Twist of Pink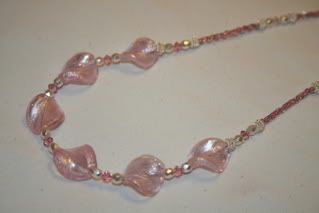 Purple & Yellow Blown Glass Pendant Necklace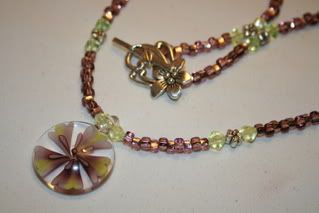 Polyclay, Czech Pressed Glass and Swarovski Crystal Necklace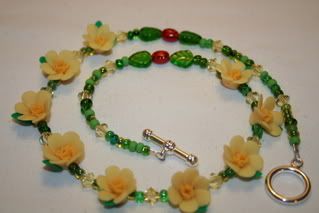 Sterling Silver Wire Wrapped Glass Necklace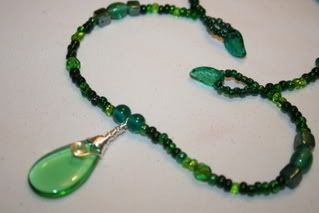 Invisible Set Paula Radke Dichroic Glass and Fire Opal Swarovski Crystal Necklace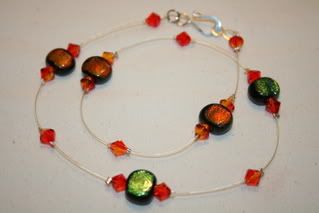 Paula Radke Dichroic Glass and Fire Opal Bracelet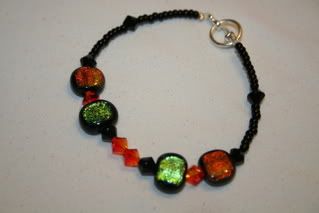 Here is the gorgeous sock kit from Knitting Central and thats KOIGU baby!!
The name of the pattern is "Cables, Cables Everywhere!" by Knitting centrals own Danni Conway.
You can find her blog Danni Knits in my sidebar. She has made some awesome patterns that she has for sale there so check them out.
Waterfall Sock #1 Complete
I plan on finishing the second sock today and working on the Solstice Slip Sock if so inclined. I think I wil be more inclined to cast on for another sock though. Since finishing the baby sky sock from Cat Bordhi's New Pathways book I wanted to knit one of the adult socks from there. I cant remember which but I think its one of the Sky Architecture ones. Since Cat uses a lot of the Blue Moon colorways in her book to demonstrate I wanted to use it also so I have a big decision to make as to which one I use. Somthing to think about until the mailman arrives.