I received my Woolgirl Sock Club Kit in the mail the other day and I officially started it today. Its colorway is called Waterfall and so is the pattern. Its a gorgeous sport weight yarn by Ms Babs and its so soft and quishy I love it!
I also finished the Little Sky Learning Sock last night. They are made with Plymouth Baby Alpaca DK yarn and are so soft that I want to make a pair for myself!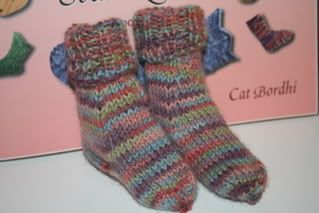 Of course it wouldnt be my blog without some jewelry pics:
Blue Flower Porcelain Necklace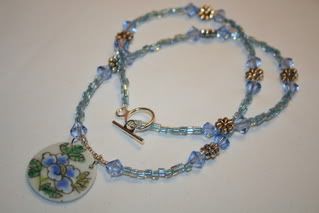 Red and Black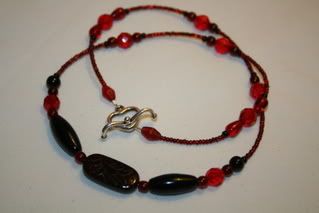 Falling Leaves Earrings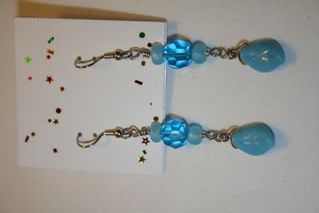 Star with Ruby Crystals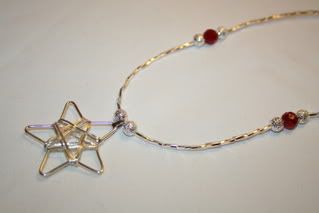 Poppy Jasper and Wire Wrapped Rose Quartz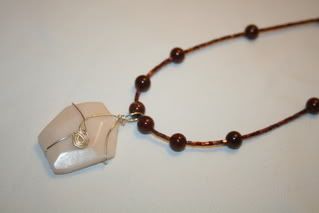 Large Poppy Jasper with Czech Crystal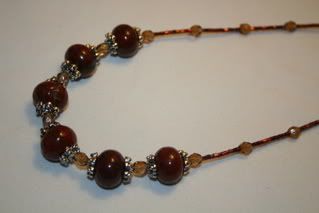 Polymer Clay Pendant by Duck 'N Run Designs on a necklace made by me. I met this wonderful polymer clay artist at the Connecticut Society Bead Show this past weekend and I fell in love with this pendant. It looks so much like dichroic glass and I was shocked when she told me that it was polymer clay. Her website is www.ducknrun.com
I have a couple more pics that I cant post because one is a gift for someone that reads my blog. I will post it after I give it to her. I also got a chance to see, Joan Miller, my favorite bead artist this weekend. I purchased the cutest bead I have ever seen and I will post a picture as soon as can. You'll know why I fell in love with it when you see it. She is an amazing artist and all her work is done with porcelain not glass. It looks so much like glass that it will leave you guessing but its most definitely porcelain. Her website is: www.joanmiller.com
You might think that they are a bit expensive but when you see them in person there is no question that they are well worth it for the time and creativity that is put into each bead. Every time I wear one of her designs I get at least 4-5 people inquiring about it.