The traditional gifts are supposed to be pottery, willow and leather but I think I will just stick to sock yarn and socks. My husband bought me my third sock club membership and he wants socks in return. I hate when he says I never made him anything when I personally designed my 1st Fair Isle hat for him! BUT since I never made him socks then I guess I never made him anything. Here is a picture of us 9 years ago today: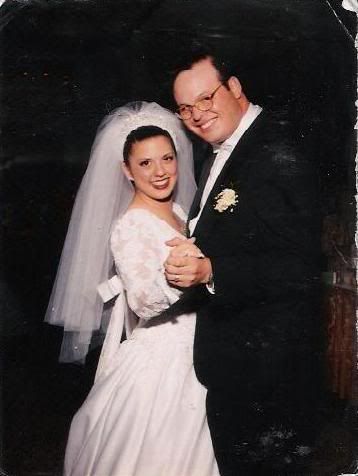 Sorry for that crappy picture but its been in my wallet for 9 years what do you expect? It was the only one I could find that I scanned into the computer. I do have a lot of wedding pictures but this is my favorite and this is the one we used as our thank you card.
Since I am having the jewelry party fast approaching I have been trying to make as much last minute stuff as possible.
This is one of the necklaces I made for my Mom's birthday gift. I also made a Kazuri bead and swarovski necklace but I forgot to get a picture of it before I gave it to her, darn!
Crystal pendant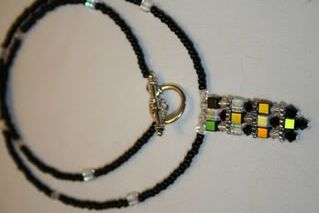 Mother of Pearl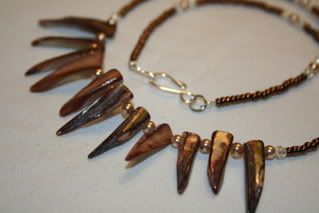 Turquoise & Howlite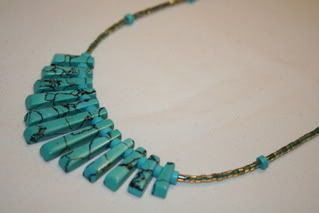 Creme Brulee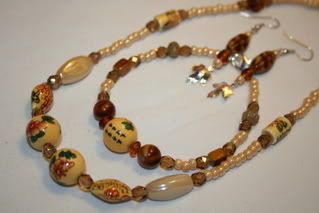 Swarovski Bracelets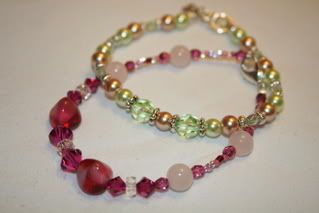 Swarovski Crystal Squares Necklace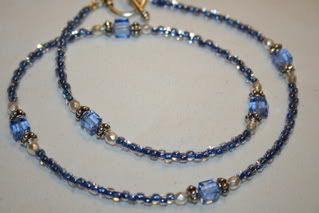 Unakite Choker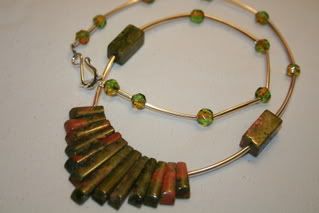 Pink Stone and Crystal Pendant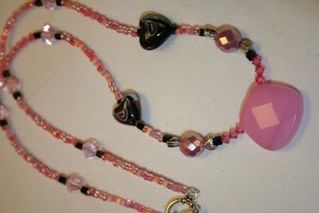 Valentine's Day
Purple Flower Glass Pendant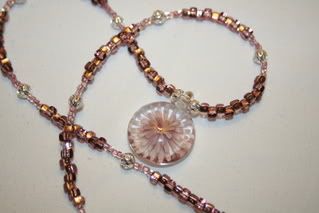 Red & Orange Heart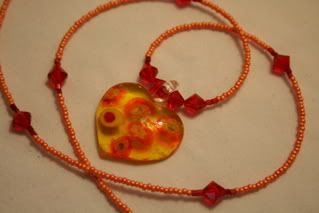 Swarovski Chandelier Earrings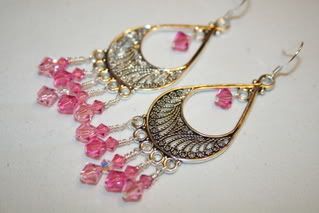 Czech Glass Chandelier Earrings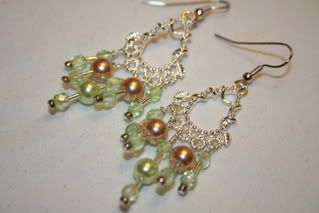 Cascade of Heart Earrings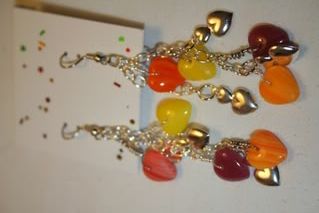 On the knitting front I have finished one of my Woolgirl Waterfall socks!! I am so happy that I finished one and have started the second. I LOVE sport weight yarn! I also caved in and had to order some of the new BlueMoon Fiber Arts colorways in mediumweight of course. When they arrive I will post a picture.
On Monday I had a PET scan to check for anything growing inside me that shouldnt be. I am awaiting my results for that so I am a little nervous. Last time I had a PET scan they found the tumor on my sciatic nerve which was subsequently removed in June. My leg has been bothering me for the past 2 weeks but I have tried not to think about it otherwise it would drive me nuts. Lets wait and see what the Dr says and do some knitting while we wait.