Yes, finally there will be some pics in this post and I am not lying. I havent been in the mood to really blog either with so much happening around here. My birthday came and went and we had a small cake the day we went out to eat and then we had another on my birthday.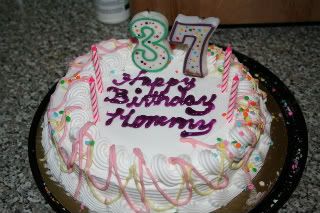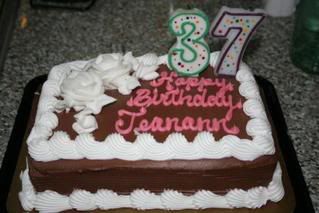 I received a few phone calls on my birthday and a lot of e-mails from people whom I have become friendly with over the years. Its nice to be remembered by friends. However, it is extremely upsetting to not get a phone call from my one and only infamous sister. We all know the back story on her and I promise not to rehash it again. From what my Mom told me I am not the only one that she has been treating like shit. Well, I can guarantee that I am HER ONLY sister and I did have cancer and she did treat ME in an extremely bad manner. My parents cant say that and they dont know what it feels like to be sick and in need of help and not get it from your one and only sister whom DID promise to help me when I found out my diagnosis. Anyway, I didnt expect her to call because she didnt call me when Ernie died.
Sampson has also been getting bigger every day and he is actually looking more and more like a dachshund. His muzzle is elongating and his body is also elongating. He is still crazy with energy and is a riot to watch, especially when he runs at full speed into a wall or a piece of furniture. Here is the pain in the butt at 4 months old.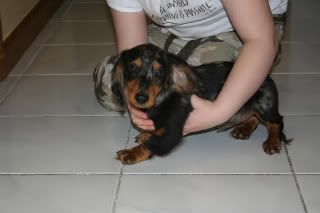 My husband and I were supposed to go see the Yarn Harlot together but our plans fell through because our son got sick and we felt better about him staying home with him. Sometimes when he gets a cough he has problems breathing and needs nebulizer treatments so I was nervous about leaving him with my Mom. I did go see Stephanie and she was a hoot! I got to WEBS just as 1,000 knitters were all purchasing their spoils of war at the same time. I started walking to the Calvin Theater and left my car in the WEBS parking lot which was the best idea ever because I made it back to WEBS in time to be the second person in line to have Stephanie sign my book. There were literally 1,000 knitters there and I had time to shop because they were all in line. Well, not all of them but it gave me time to shop and I was very good and didnt spend more than $100, if you can believe it. There was a 25% off sale on all sock yarn for the event so I had to get some of that. I bought the Giselle pattern by Marnie MacLean which I absolutely love and I cant wait to make it (who knows when that will be). I also bought some of my favorite Bue Sky Cotton in a gorgeous aqua blue appropriate enough for a boy or a girls Presto Chango.
Here is the famous Yarn Harlot at WEBS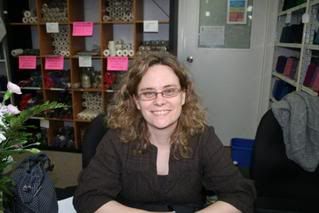 I finally made some jewelry if you can believe it.