I am anxiously awaiting the arrival of my 1st Woolgirl Sock Club Kit. I havent started the next BMFA Sock Kit because I wanted to see what pattern was in this kit. The Knitting Central Sock Club starts on the 29th so I will be up to my ears in socks pretty soon! The Solstice Slip Socks are still waiting to be finished but since it has such and annoying little cable that I havent yet mastered doing without a cable needle yet, well, they're not done yet. I am just a few rows away from finishing my 1st baby learning sock in the Cat Bordhi book. They are going to go to my GI Dr's wife who is due any day with a baby girl. I also started the Minnowknits Brittany Jumper with some Handspun Cotton from Great Adirondack Yarns. Its very much like Blue Sky Cotton which is my favorite cotton to knit with. I love knitting with cotton yarns.
Of course I did some beading and I actually did some bead weaving too!
Lampwork Bracelet and Earrings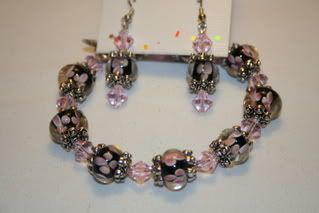 Crackle Beaded Bracelet and Earrings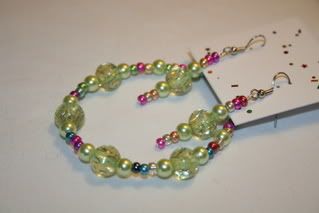 Czech Crystal Bracelet with Vintage Swarovski Clasp (my first bead weaving project!)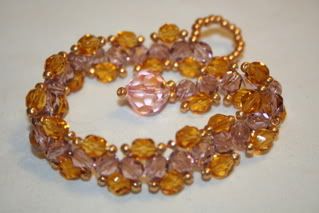 Pink Shell Necklace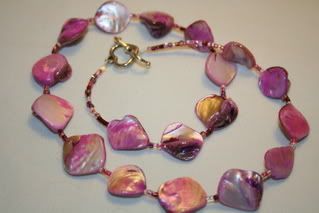 Earth Tones Necklace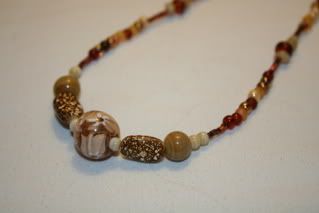 Mother Of Pearl Star Necklace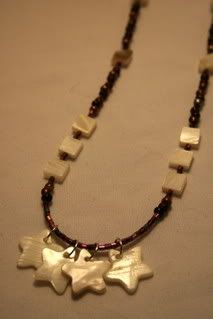 Mother of Pearl Flower Pendant with matching clasp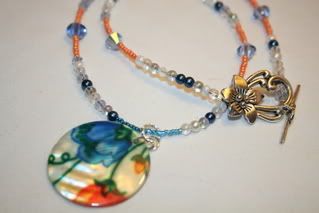 Mother of Pearl and Shell Necklace with Dangler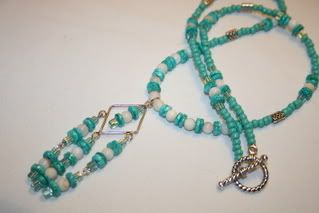 Hand Blown Glass Pendant with Green Semi-Precious Chips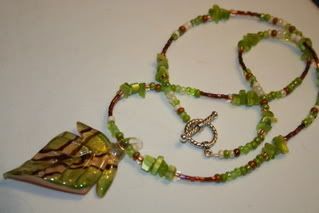 Dichroic Glass with Vintage Swarovski Crystals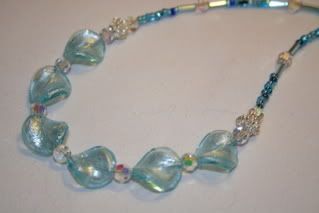 Liquid Silver Star Pendant with Swarovski Crystals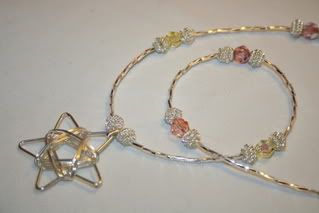 Swarovski Cross with Silver Mesh and Pearls
In other interesting news our lawnmover of almost 6 years died last week and as an (wedding) anniversary present my Mom is getting us a new one. I am very happy about this because those damn things are so expensive and our oven also needs replacing because it no longer heats up. It seems all appliances go to appliance heaven all at once around here.