Just some random pics today for your entertainment. The first is a UFO that I recently finished 2 days ago. It was supposed to be a throw that was to lay accross the back of a pink chair thats in my bedroom but it was the project that dragged on FOREVER and I wanted it done so it turned into a wrap instead. I started it in June of last year when I started to crochet again after many years of not doing so. Its a griddle stitch with eyelash yarn edging: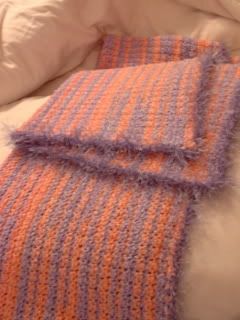 My son was asking me to make his Beagle whose name happens to be "Beagle", a sweater-coat because he was getting cold. Yesterday I whipped this baby up in 20 minutes with some leftover Lion Brand Thick & Quick: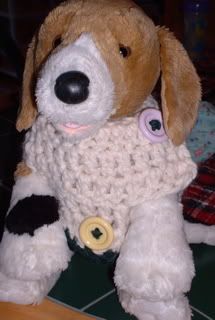 In 2004 my Grandfather died and my Mom gave me his beautiful cashmere sweater that she had purchased for him and he never had a chance to wear. It still had the tags on it! It was an XL or XXL, I cant remember but I gave it to my DH and he put it away in the back of his closet. I reminded him that he had this beautiful cashmere sweater to wear a few weeks ago (what do men know of this fiber they call cashmere!) and he started to wear it. Somehow he brings back memories of when I was a little girl and used to watch MR ROGERS NEIGHBORHOOD on PBS. Now you tell me, doesnt this remind you of MR ROGERS? Well, MR ROGERS with less hair that is! LOL: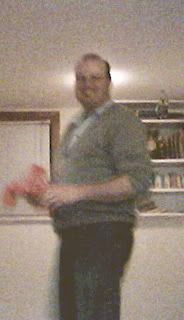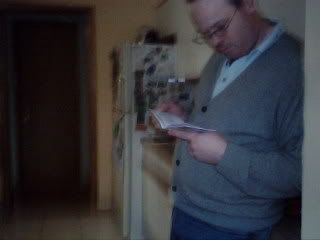 My DD took the last 2 pictures with her Fisher-Price Kids Digital Camera that my cousin bought her for Christmas. Just to explain the bad photo quality. I think you can upgrade the quality somehow with a new photocard but who cares? She's taking a million pics of everything. I am not going to print all of them so it doesnt matter.
Hope you enjoyed my pics!
I am currently working on the cabled dog sweater, some wrist warmers for my Aunt whose birthday is 2/22 so I have time (I think), the homework for the finishing class in Feb., and the same freakin' socks that I have been working on since Thanksgiving, I promise not to mention them again until I am done.
I almost forgot to mention that today is my DD's birthday. I cant believe she is 7 years old today! Happy birthday to you!