I made another pair of bootees for my cousins baby girl. I used Rowan Cotton Glace in the color Pier and the little bit of lace that is in this pattern has addicted me already to lace knitting. Its called Lace & Diamond Bootees (this is how the author spells booties). I am going to drop these in the mail to her on Monday before the babys feet get to big. They are made for 6-9 month olds and she is 7 months so they should fit:
This is my attempt at Fair Isling with my own design that I adapted from a mitten pattern to a hat. I think that its going pretty well. We will see when I have to start the decreases! LOL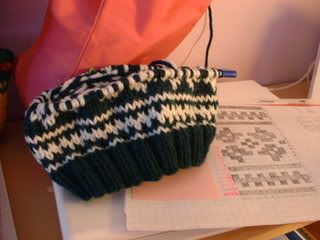 Here is a cute picture of our resident squirrel that has learned to expect peanut butter sandwiches every day from us. If we dont give him what he wants he comes right up to the glass doors on our back porch to taunt my 3 doxies. Its very funny to watch but I think I am creating a monster, a squirrel monster that is!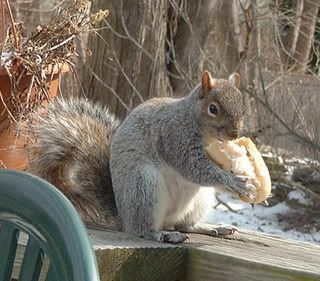 I am still anxiously awaiting my BMFA sock kit for February but alas there was no delivery for me today. It should come tomorrow and I cant wait!! I'll be sure to post pictures of the kit when I get it.
My next surgery for the nipple reconstruction is scheduled for March 8th and I am so happy that they finally fit me in the OR schedule. It was crazy there for a while that there were so many surgeries being scheduled. Thats because so many hospitals have been closing in the area (around the hospital I use) and they are picking up the slack.