I arrived in Northampton early so I checked into my hotel room and then of course headed over to WEBS to shop early.
Here is my lovely room which was really nice and the bed was surpisingly comfortable. I normally sleep on a SLEEP NUMBER BED so I am a bit picky about my beds. While I was wandering around WEBS I ran into the Yarn Harlot herself. She had a small group of people that were with her so it was difficult to just walk up to her if I wanted to. I was a bit chicken and shy (who ME?) but I thought that I would get a chance later to see her so I let it go. Little did I know...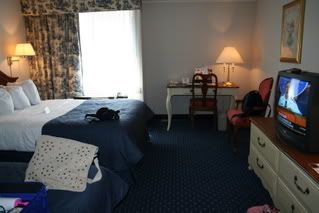 I spent so much time at WEBS that I had JUST enough time to go back to my room, change and get a cup of coffee so I could be awake for the event. I was exhausted by this point because the drive put a lot of stress on my leg which was hurting really bad by this time of day and all I wanted to do was lay down and prop it on a pillow.
When we arrived at the Calvin Theater (when I say 'we' I am referring to all the knitters) the WEBS employees gave us a goody bag with yarn (Debbie Bliss Cashmerino Aran) and Boye Needles (size 8) to knit a square for WARM UP AMERICA while we were listening to Steph speak. I did half of mine there and then finished it in the hotel room and dropped it off at WEBS before I left town. Here is Stephanie at the podium with a beer in front of her provided by Mr Elkin (one of the owners of WEBS). They certainly know how to treat their guests! Stephanie was fabulously funny and made me laugh from the moment she came out to the podium until the last words that came out of her mouth. She is not only a talented knitter and writer but a wonderful speaker to boot. When she ended her talk we all headed back to WEBS for the book signing.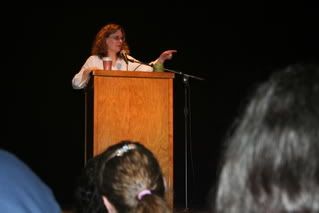 This was on display at WEBS and its amazing to see in person. Its a knitted glove for one of those hand chairs and I am sure took lots of time and patience.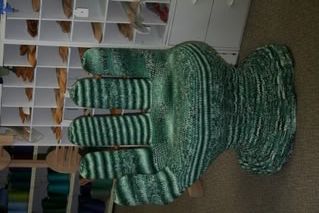 Here is Steph signing books at WEBS after her appearance at the Calvin. When we arrived at the Calvin we were handed a card with a time to come back to WEBS to get in line for Stephanie to sign our books. Mine was 7:45pm but the talk ended at that time. We all headed back as fast as we could and the line was already snaking to the back of the warehouse which is NOT air conditioned and about a 2 hour wait (at least) from where I was standing. I didnt really want an autograph but a chance to tell Stephanie how knitting and her blog changed my life. I know it sounds kind of sappy but its true. I dont know where I would be right now if I didnt have knitting. It has centered me and made me realize that I have a special talent. I can make beautiful things that I can share with the ones I love. It has saved me from obsessing over many things including my cancer coming back (especially now with this tumor in my leg) and especially after my surgeries when I wasnt able to do anything but knit. Enough of my reminiscing about the past, I am getting emotional thinking about it. So I didnt get an autograph because I didnt wait in the line. Due to the tumor in my leg and the pain and discomfort it was causing me I wasnt able to wait for such a long time. The WEBS people had said if there was anyone who was unable for any reason to wait on the line they would be able to come to the front to see Steph but I couldnt do that. From the outside I look fine, like nothing is wrong with me and I can just imagine what people would have said or thought if I cut the 3 mile line! Its OK and I am sure I will see her again when she writes another book and tours! YEH!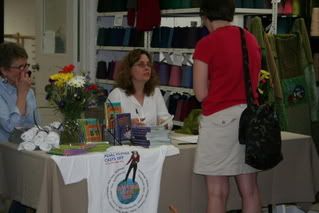 I purchased some gorgeous yarns, all with a purpose or pattern in mind. I bought a gorgeous sweater pattern by Stitch Diva Studios, Wendy Bernard, called SAHARA. Its simply elegant and you have the option of making it without sleeves, with short sleeves or with long sleeves. From what I have read about the pattern on line many say that its a very simple pattern thats easy to understand. I purchased Valley Yarns which is made specifically for WEBS and its called GOSHEN. Its 48% Peruvian Cotton, 46% Modal and 6% Silk. You can see it in one of my pictures below how pretty a shine it has and the color I chose is called MULBERRY. Its a color that I know would look good on me but by buying it I did step out of my comfort zone. This picture doesnt include all the yarns I bought because I went back to WEBS before leaving town to get some other stuff like patterns I was eyeing and also some baby yarn for a blanket I want to crochet for my doctor whose having a baby in August. Actually I bought a lot of baby yarn because 2 doctors of mine (my GP and my GI Doctor are both having their 4th child! Wow, 2 is more than enough for me especially since my DS is like having 2 kids anyway!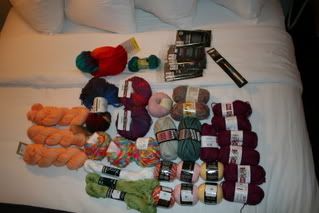 This is one of my favorite yarns called Elaine by Schaefer Yarns. The colorway is called "Hermione" from the Harry Potter books. I wanted to buy more of it to make a sweater but it was a bit pricey so its going to have to be a vest for my DD or somethng else. I have to think about it. I am making my 2 little cousins who are turning one year this summer each a sweater for their birthdays with "Kirmie" and "Little Mermaid" colorways.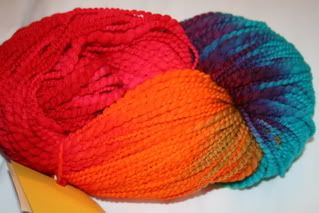 Here is a GORGEOUS yarn that I fell in love with the minute I touched it. Its bamboo and silk and if I had an endless supply of money I would have bought enough to make a sweater. SInce it costs $9.99 for 93-98 yards (cant remember exactly) and I would need about 1000 to 1200 yarns that would be, lets see, over $125 for the sweater. Well, you are saying what does she want for a homemade sweater made with the finest bamboo and silk? You're right, its not that much in the scheme of things but I bought GOSHEN by Valley Yarns with the same amount of yardage for $3.99 a skein and paid $40 for 10 skeins. Thats a big difference and what I like about Valley Yarns. They make a cheaper substitiute for almost all the name brand yarns out there for much less money and thats key in my book and moreso in my pocketbook!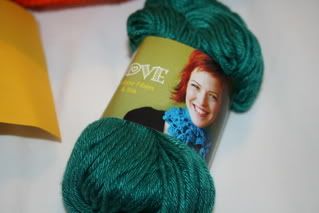 The lovely GOSHEN yarnI was raving about earlier: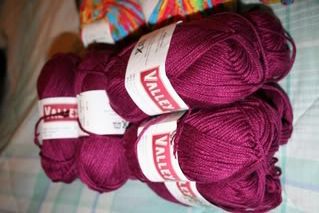 Since this is a knitting blog how about some pictures of what I have been making instead of yarn all the time? Here is my finished Tidalwave sock (keep in mind that is not blocked) which began as a Grasshopper in Blue Moon Fiber Arts April's Rockin' Sock Club Colorway, Walking on the Wild Tide. I decided as I was 1/4 of the way into the pattern that it wasnt working with the colors of the yarn so I decided to change the pattern to TIDALWAVE by SWTC. Its meant to be knit on the TOFUTSIES yarn. Its an easy, gratifying pattern and I love it. I am already on the pattern part of the leg on the 2nd sock. The 2nd one always goes faster than the 1st but when you have 8 projects going on at once its hard to get them done. I've been working on all of them slowly but working none the less so they'll get done eventually.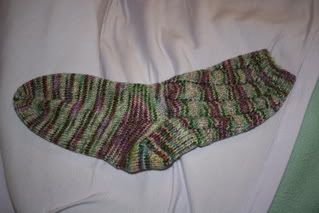 My Starry Night Shawl Class begins this week and I am excited and nervous at the same time about it. Its going to be beautiful since its going to be made with BMFA yarn in the Pink Granite colorway. The class is for the experienced knitter and thats what worries me. Cynthia says she considers me experienced after all the stuff I have made and that makes me feel best of all. Thats why I love my LYS, Knitting Cental, so much. The employees there empower the knitter to go out and do the project no matter what it is. I have never heard a negative word from any one who works there about what I could or couldnt do with my knitting. They are all wonderful and invaluable because each one of them has their areas of speciality where you can find help in whatever you are working on from crochet, lace, socks, intarsia or finishing. You name it they can help you.
Tuesday is another big day for me because I get to see another Dr who does peripheral nerve surgery. I did some research myself online and what I found is not any where near the same info that I found the other day. The info that I stumbled on last night was very frightening and mentioned the possibility that it was a malignancy was higher than I previously thought because of its location on the sciatic nerve. I read that these have a high percentage of malignancies. I didnt need to read this at 4am in the morning and it was depressing me also. I am going to continue to think positive and pray to God that it can safely be removed and that its benign. I dont want to type any other info that I found until I know exactly what this thing is. The bad thing about that is I probably wont know what it really is until it comes out and goes to pathology just like the tumors in my breasts. Please say a prayer that its nothing bad. Thank you so very much. :>)