Well, I couldnt wait until January for a shaping so I went yesterday to get a trim. I went to the same girl that did a great job last time and she did a great job yet again. I am very happy and I promised myself that I would wait until February so it can grow into its curl a bit. I bought some more styling products to hold me over when my hair gets to that awkward phase which will most likely be a month from now. When you see me complaining in a post dated Jan 20th or so you'll know why!
My kids were so sick this week and my DD almost went to the hospital again but we averted that by getting her on her nebulizers fast and avoiding pneumonia again. She is on the albuterol and pulmacort nebs and its helping a lot. I am using the good old steam vaporizer in my sons room and it is working great.
Tomorrow is Christmas Eve and we have the traditional Italian dinner with the 7 fishes and all the other foods. Christmas Eve is bigger than Christmas Day in our family and always has been that way. I am looking forward to it because its my favorite time of the year but I am also going to be seeing my sister for the 1st time in months and I am not looking forward to that. I dont want a fight to break out but I warned my Mom that I am on the edge and very angry over this entire thing. Its stressing me out and I have a migraine now because of it. In my dreams I am hoping she approaches me and apologizes but that is a dream mind you. If she says anything thats inappropriate I told my Mom that I would embarrass her in front of everyone and I dont care how it makes me look because I have held it in long enough and I have every right to get it out. Believe me, I DONT want this to happen but I have been extremely emotional and I havent been able to control myself so one never knows what will happen.
I am finishing up some last minute knitted and crocheted gifts and I cant wait to give them to their new owners on Christmas! I get more excited giving gifts then getting them and have always been that way. Here is a picture of a cake I made the other day: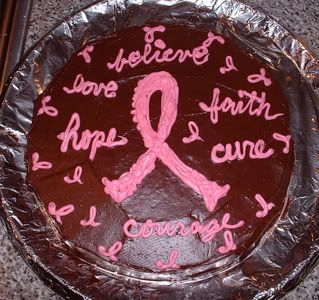 Here is a corset belt that I crocheted for my Mom (her Christmas gift):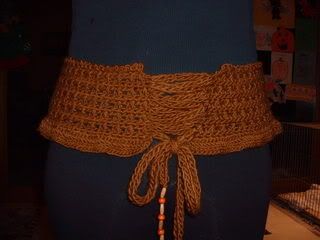 And finally the socks that I made with a yarn over cable with Cascade Fixation yarn. I finished these a long time ago and never posted about them: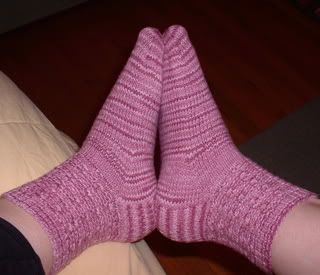 If I dont get a chance to write again before Christmas then MERRY CHRISTMAS to all!