I found this old picture of my cat in my phone and I wanted to post it here. It was taken sometime last year, I believe. I still find myself getting teary eyed when I think about him.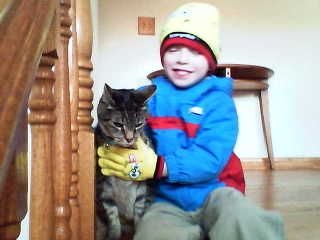 In my experiments with wire I made this bracelet. Everything you see on it was made by me including the clasp. I didnt use sterling silver because I wasnt sure how it would come out but instead used silver plated copper wire. I still think its nice no matter what it is and I have been contemplating making it with copper in a smaller gauge.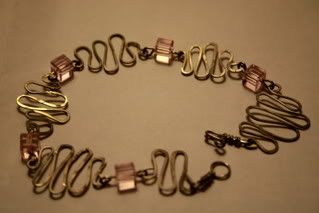 Here are two of the new Koigu colors that I picked up last week. They are certainly bright!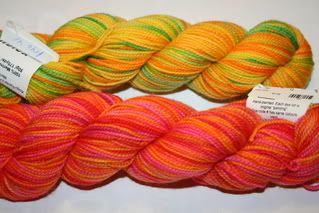 Some new knitting books, a cute Lantern Moon Notepad and Post-Its that say "SABLE-Stash Accumulated Beyond Life Expectancy":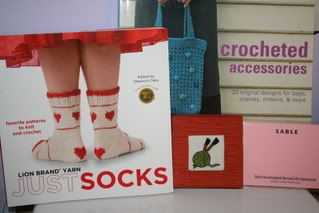 I am actually making the Moccasin Slippers in the Lion Brand Sock book. I finished one in an evening. I just have one more to go and then a FO that I can post here! Yippy! Can you tell its been a while since I had a finished object? LOL The slippers call for Lion Brand Thick & Quick Yarn and sizes 13 and 11 needles so thats why they are such a quick knit. It was so hot today I havent worked on the second one yet.
This bracelet was actually a kit that I altered a bit because it was about 3 inches to small. I added the small Swarovski crystals in it and in the earings.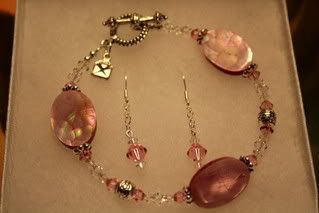 A couple of kilt pins (or wherever you want to pin them if you dont have a kilt) I made from wire and awareness beads: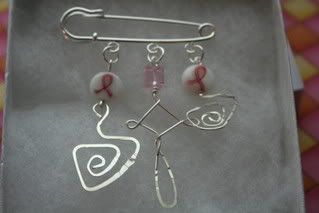 This one is made with a cross pendant and shell beads: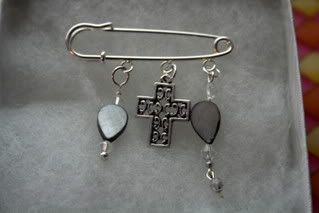 This is a design that I have had in my head since buying these beads. Last night I finally put them all together and was so happy to see how they came out. I LOVE this set and plan on making another one with different colored beads.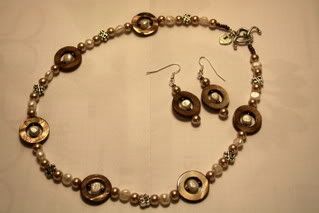 Today was the last day of my son's summer school/camp. I was trying not to cry when I went to pick him up. The teachers that he had there were the absolute best and he loved them like they were a part of the family. His teacher, Wendy, refused to say good-bye and said that we have to come and visit next month because she is going to be in the classroom the whole month of August. I actually want to invite her over the house for a visit before my son starts Kindergarten. I cant believe that the summer is almost over. It has gone by so fast but I am not complaining because I HATE the heat or I should say the humidity and I welcome the fall weather anytime it wants to get here.
I dont know if I mentioned it in the last post but I went to get my hair cut last week. I havent had it cut since May and it was a tad unrully and in need of some dead ends being trimmed off. He didnt take much off, just a little. It looks so good when I left the salon then walking out into the blasting heat it melted or I melted actually and it curled right up! I love my hair curly but when its not long enough there is not enough weight to hold the curl down and it springs up. My Mom loves it and I do to when its 'just right' but when I have somewhere to go I blowdry it straight or in a flip. In other words I like to wear it different ways and there is nothing wrong with that. I dont make a habit of abusing my hair since its practically brand new! I forgot to take a picture after the cut but it looked exactly like the last time he cut it but an inch longer.