I havent been a good blogger this summer but I dont think that anyone has so thats my excuse and I am sticking to it. I have some pictures for your viewing pleasure and one even has knitting content!
This is a necklace and earing kit that was bought long ago but just finished a few days ago: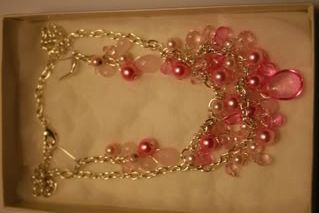 This is my own design and I especially like the wrapped stone with the matching wire: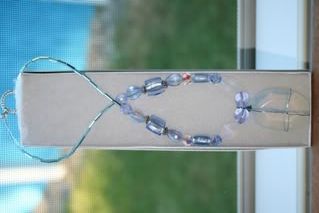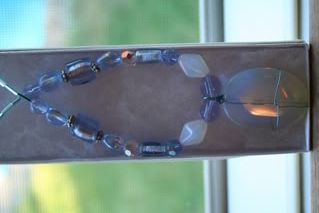 Here is the knitting I promised you. You might recognize the sock as the Blue Moon Socks that Rock June Kit in the Firebird colorway. The other blue cable is the strap of my cabled tank top that I am making from Berocco's Love it! and its very nice to work with, I just need to finish it! I also am behind with my Starry Night Shawl hexagons. I need to make 2 more by the 8th of August. I need to stop procrastinating about it and get it done.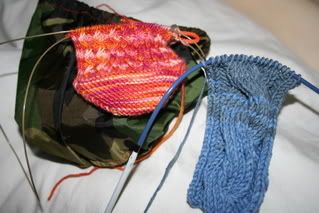 These are a necklace, earings and bracelet that I crocheted using 34 gauge wire and small stone chips in earth tones. I cant remember what the technical name for them are but my neighbor loved them so much that I gave them to her. She helped my husband with yardwork when I was sick and I wanted to do something to thank her.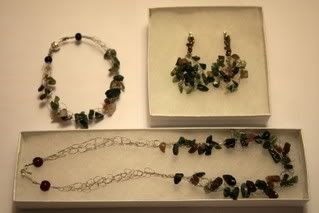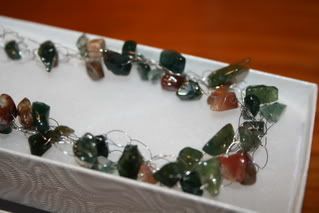 Last night DH and I went to see the new HP movie. I liked it but didnt like the fact that they left so much out of the movie that was in the book. I thought that the OOtP was the best out of all the books and you would think that they would have spent some more time explaining things in the movie. It would have made it 100% better. The good thing is that the last book comes out in a few days so I cant complain. All of my questions will be answered (I hope).