It seems like a lot of blogland has been stuck in a knitting funk. I dont mean everyone but I am not the only one. Maybe because its to hot? Maybe I am busy doing other things. Summer time is a time for outdoor activities and when kids are involved well, there you have it. Camp starts tomorrow for my daughter and my son goes to his program on Wednesdays and Fridays. The rest of the time they are home are spent in the pool or on the slide or lately playing with the kitten. Its left me minumum time to blog or knit. I have been making stitch markers and jewelry though which I have some pictures to show off. The first is a crystal necklace and the second is my pastel swarovski crystal creation made from small bugle beads, swarovski's and a mixture of odd pastel beads in a two strand necklace that I made for myself.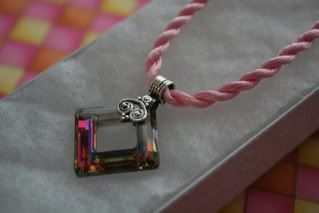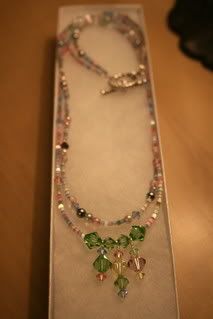 My Mom and I came up with a great incentive plan to make people donate to the Avon Breast Cancer walk that she is doing in October. Here is is:
For anyone that donates;
$50-$100 you get a handmade breast cancer awareness PIN to wear and show your support.
$150-$200 you get EARINGS in your color choice (bead or crystal colors) handmade and designed by me, CurlyBrunette.
$250-$300 you get a BRACELET in your choice of colors handmade and designed by me.
$350-$500 you get a NECKLACE in your choice of colors handmade and designed by me.
$550-$1000 you get a matching BRACELET and EARINGS in your choice of colors handmade and designed by me.
$1000+ you get "THE WORKS" which is a matching BRACELET, NECKLACE & EARINGS in your choice of colors handmade and designed by me.
If you are a knitter and would like a set of stitch markers instead of earings, thats something I can do for you also. Stitch markers come in sets of 5. Since I am not going to be able to do the walk due to my leg healing from surgery I wanted to be involved in some way and I think that this is an awesome way to do it. The walk is 39 miles! If it was 2-5 then I could do it but 39 miles is way over my limit. The Avon people were very nice about withdrawing me from the walk and said that if there is anything they could do to help to let them know. If you would like to donate to the walk please visit my Mom's Avon Beast Cancer Page. I will post the link in the side bar to make it easy.
I have seen the generousity of knitters through the Yarn Harlots blog with Knitters Without Borders and through Claudia's Blog with her fundraising for her MS Bike Tour so I know it can be done. I am asking all who read this blog if they would like to donate something whether it be a handpainted yarn or a handmade item to e-mail me with your idea or if you have something you would like to donate for the prize baskets please let me know. I am going to make several prize baskets that will be raffled off after the walk. All you have to do to get your name in the raffle hat is donate $20 or more. $20 will get you one ticket in the hat and $40 will get you two and so on. So $100 will get you 5 tickets in the hat. I am doing this because I not only want to meet the amount of money that my Mom raised last year but I want to exceed it! She raised close to $8,000 dollars last year and I know that with the support of the people that gave last year and all the new people that will give this year we will do it!
Here are some photos to update everyone on the kittens growth.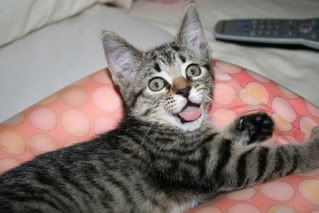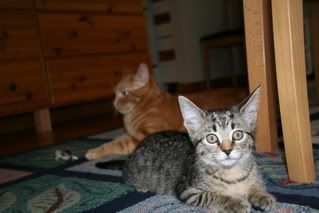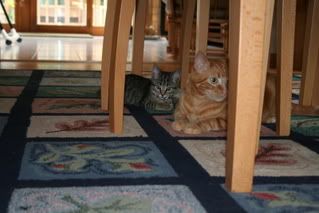 I cant believe how much she has grown in just 10 days! I love the picture of her with her tongue out. She is a character!