This past weekend I had the pleasure of being a student in a class taught by the incomparable Nancy Bush at my LYS. It was fun and when it was all done I learned a Welsh heel, a star toe and French toe (we had the choice to make either) and a different way to SSK. We didnt make a sock but a mini (ugly looking) swatch. Of course I took some pictures. I have to get another camera and I mean ASAP because this one is 10 years old ( probably older) and is antiquated. I think its a 2.1 mega pixels and one of the 1st digitals ever made! LOL. Enough gabbing, here are the pics.
Nancy teaching the class: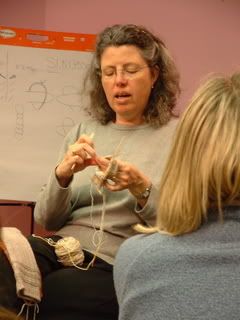 Our 'organized' workspaces, LOL: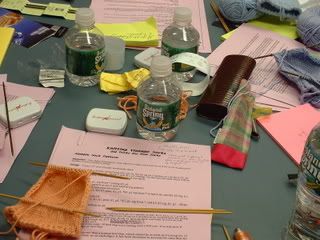 All of the socks she has made that have appeared in Vintage Socks, Knitting on the Road, Folk Socks, Folk Knitting in Estonia and various other places such as Interweave Knits magazine and the new Interweave Favorite Socks book. These were amazing to see in real life and to touch because they are flawless and beautiful: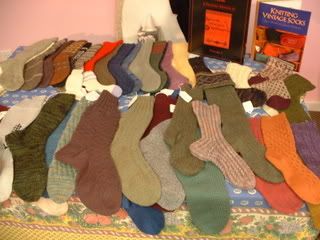 Here is one of her and me. I am so tired in this picture that was of course taken at the end of our 6 hour class. I had a migraine throughout the entire class but I wasnt missing it for the world!: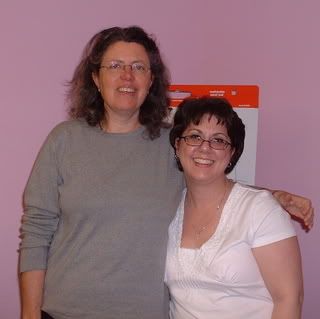 She also showed us some gorgeous lace that has appeared in some publications such as Scarf Style and Interweave Knits. She is currently working on a book about Estonian Lace and I cant wait until that one comes out. She is such a sweet lady and graciously signed all of our books for us without a complaint. She also taught the entire class having a bad cold with a hoarse voice! Now that's dedication!
Here is a picture in honor pf Project Spectrum entering April & May with 2 new colors and saying goodbye to one of the February and March colors (blue).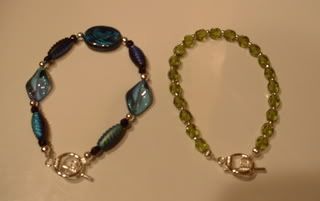 After I took this picture the wire on the blue bracelet broke. I think I need a bigger gauge wire so that doesnt happen again, Well, you live and learn.