On Easter Sunday we went to my cousins house for dinner where I had the opportunity to take some great pictures. The eggs were dyed at my house by the kids, my DH and I. The tulips were on the dinner table at my cousins house and the scattered railway pieces were my sons doing! I thought it would make an interesting picture.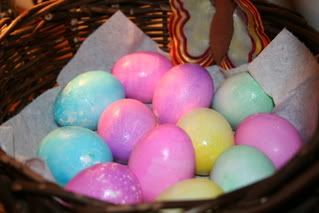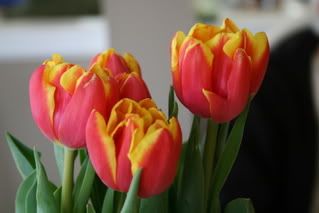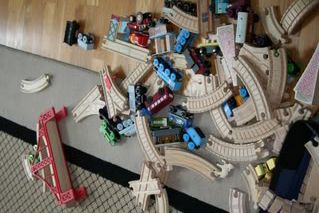 These are salt and pepper shakers that a fellow blogger and doxie lover sent me. How sweet is that. To thank her I sent her a secret package in the mail today and of course I cant say what was in it otherwise it wouldnt be a surprise.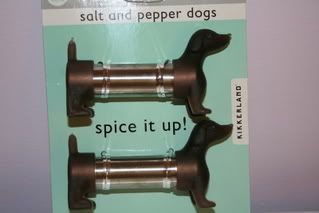 These socks were started a couple of days ago because I just had to cast on something yellow in honor of Project Spectrums colors for April/May: Yellow, Green and Pink. They are toe up (short row) and I am using (what else), Artyarns Supermerino with a size 2 Addi Turbo. I first started it on size 2 DPN's which are a bit smaller than the Addi's (2.75mm compared to 3mm). This yarn is so versatile that I have used needles ranging in size from a 2 all the way up to a 6. My Dad's socks were made with a size 5 needle. This pattern was taken from the second book by Charlene Schurch, MORE SENSATIONAL KNITTED SOCKS. Its an awesome book and I highly recommend to any sock knitter.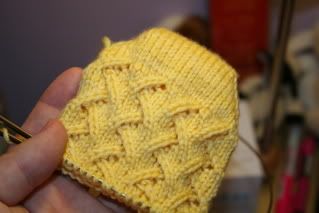 These are almost done! I finished one last week and am currently on the foot of the second. I am hoping that I will be done before the next BMFA Sock Club shippment arrives. I also have a few extra skeins of Socks that Rock in some gorgeous colorways on the way here before the next shippment comes. The 10% off coupon was just screaming to be used and I had to obey! LOL.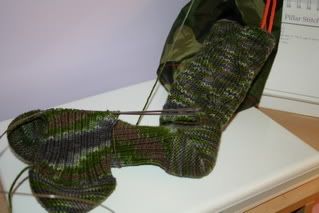 Here is some Koigu Kersti in a mix of colors which include some Project Spectrum colors for Apr/May and Blue Sky Cotton in a citrus/cantaloupe color I couldnt resist. The Blue Sky Cotton is going to be a baby sweater for my cousins little girl who turns 1 this summer. I had purchased some Schaefer Elaine yarn in a beautiful green called KERMIE (yes, I need to get a picture) to make my other cousins baby boy a sweater. He is a couple of weeks older than her so of course I had to make them both something for their 1st birthday. I have plenty of time so I dont have to worry about these just yet.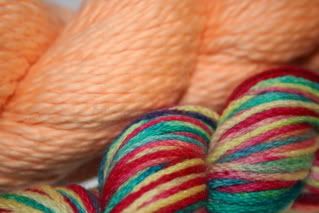 My Grandmothers bag that I am crocheting for her birthday is coming along nicely. I designed it myself and I am hoping it comes out like the picture in my head! LOL. I am starting work on the side panels tonight and then all I have to do is complete the strap, seam it up and maybe decorate the front triangular panel depending on my mood.