There hasnt been much beading since before Christmas but today I got a chance to make a few things. I am planning on having another jewelry party before Valentine's Day at my parents house. I have received a lot of requests from previous buyers that they want to do some shopping. Hooray! Because I need to pay the bills and I also need to do a big wholesale order with FireMountain Gems. Unfortunately I have to wait for my tax return to do any of that. Here are some beautiful things I made in the past week but mostly today.
Pink Crystal necklace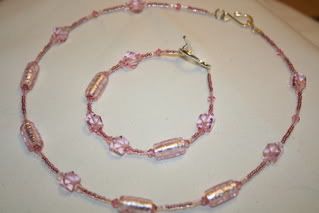 Moonstone Leaf Necklace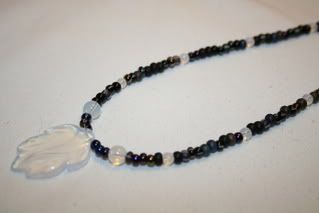 Blown Glass & Swarovski Crystal Necklace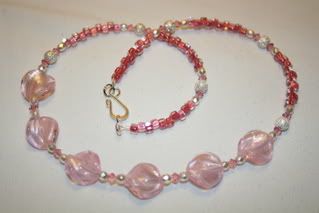 Cobalt Blue Glass & Crystal Necklace
Lampwork beads wiith Swarovski Crystal Bracelet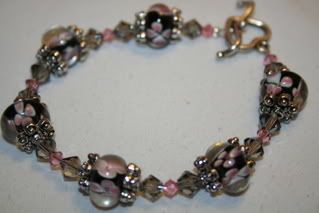 Blown Glass, Glass Beads & Swarovski Crystal Necklace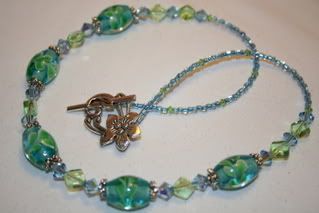 I also got around to finishing these cute mittens for my son. They were so easy that I probably could have made them with my eyes closed. Well, except for the seaming at the end. The hardest part of making them were putting the felt in and sewing it up with regular sewing thread. He proudly told his teacher this morning that his Mommy made him Shark Mittens and she now wants a pair! Maybe I will surprise her with an adult pair of Shark Mitts at the end of the year. I have to find nice thick felt like the kind that came with the Morehouse Merino kit. Maybe I will just order it from them. I am in love with the Dragon Scarf they have. Right now I am in the process of making my husband the Alligator Scarf from the kit they sell. I bought all these kits when I was at Rhinebeck and they were my all time favorite purchase. The Rat Race Scarf is really cute to. These are going to make awesome gifts for Christmas next year. They are fun, fast and easy which qualifies them as good gift givers.
Shark Mittens by Morehouse Merino
I dont know why the picture is off center here. Maybe it has something to do with Flickr? It does that sometimes and its annoying because I dont have issues like that with Photobucket. The thing is, I have to have a Flickr account for my Ravelry account. Oh well.
I broke one of my rules that I set for myself already and we are not even halfway into January! I had to go to see my Oncologist for my 3 month check up. He ran all kinds of blood tests which were all normal (yay!) and he wants me to go for a PET Scan in April since my last one was the end of September. Normally I would go for a CAT Scan but when you do a PET Scan it gives you a baseline CAT Scan so there is no need to expose oneself to the extra radiation of the scan. Anyway, back to why I went for a trim. The salon around the corner from the Dr's office and I called while I was waiting for him to see if they had an appointment open. So of course when they said they did I booked it. He took a tiny bit off my ends and also evened out the back so it can grow evenly. He knows I am in the process of growing it and I told him my goal at this point is to get my hair to my shoulders. Now, I do have to wait a while to give it a chance to grow but it always looks good for a few months after he shapes it up anyway. My daughter is receiving 2 sacraments this year and the first is Penance/Reconciliation in February. My hair will look perfect for that and also in my opinion it will look even better when it gets a little longer in May when she receives Communion.