I already mentioned about a hundred times that its SOCKTOBER and I am not only trying to complete as many socks as possible but learning new techniques for knitting socks. The other day I bought a book called KNITTING CIRCLES AROUND SOCKS by Anje Gillingham. It demonstrates how to knit two socks on two needles. All I know is that yesterday when I was attempting to do this, there was a tangled mess of needles and yarn everywhere. I couldnt get it no matter how I tried and thats not like me at all. I usually see something and learn quickly so I just put it aside and decided to do it my way. I proceeded to teach myself how to knit two socks on one needle using the magic loop technique. There is a book cominig out in December by Melissa Morgan-Oakes about how to do this and I cant wait to buy it so I can see if I am doing it correctly.
The second new technique or several ones are being learned from the master sock knitter, Cat Bordhi and her New Pathways Book. I already completed the Little Sky Learning Sock and now I am working on the Bartholomew's Sock which uses the same Sky Sock Architecture. There are some pictures posted after the jewelry ones.
Silver Heart Necklace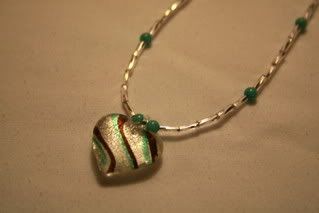 Blue Moon & Stars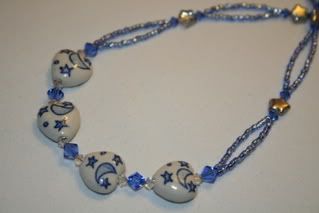 Rhodonite Fan Necklace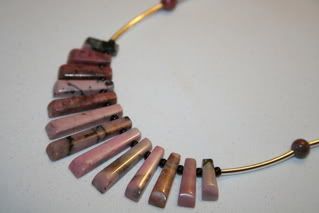 Mother of Pearl Flower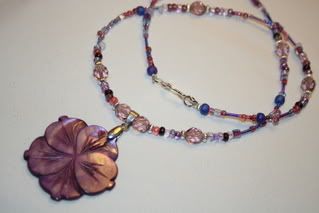 Millifiori Heart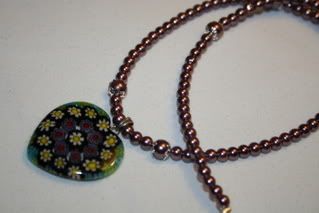 Blue Antiqued Ceramic Necklace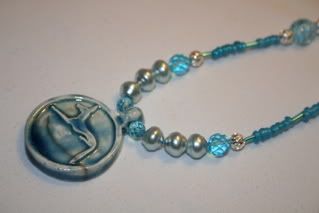 Millifiori & Colored Squares Bracelets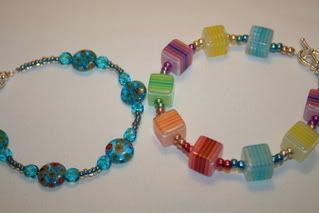 Black and Orange Blown Glass Necklace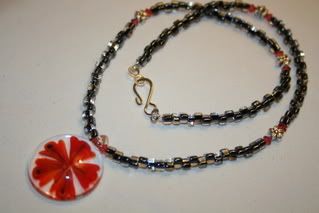 The Most Beautiful Flower Necklace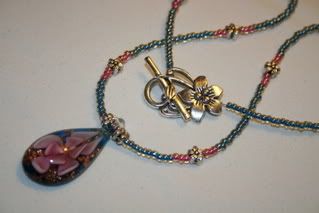 Blue Moon Fiber Arts Yarn all in Mediumweight~My Favorite!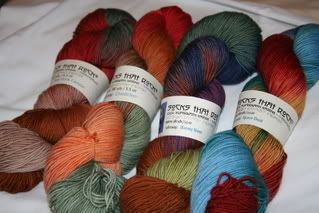 Red Rock Canyon, Chanticleer, Blarney Stone & Space Dust
Solstice Slip Socks in Progress
Bartholomew's Tantalizing Sock Pattern from Cat Bordhi's New Pathways for Socknitters Book in Space Dust Colorway